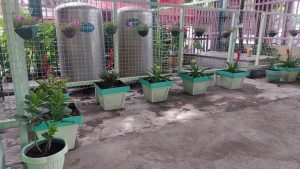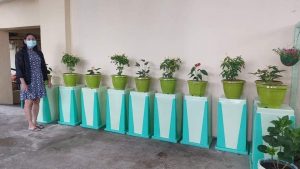 Rivera Village Elementary School (RVES) is honored to be a part of Back to School "Let a Million Flowers Bloom" Project by the Office of the Undersecretary of Administration (OUA) through the Bureau of Learner Support Services – Youth Formation Division (BLSS-YFD). The school is in one in believing that this project will uplift the spirit of learners, parents and teachers as well as to show gratitude and appreciation to teachers
for all the hard work they have showed amidst the COVID-19 pandemic.
The Youth for Environment in Schools Organization (YES-O) officers initiated in putting up the "RVES' FLORAL
GARDEN". The garden is located at the back of the school's building A, near the highway. Different flowering plants were planted in the said garden such as gumamela, selloum, vietnam rose and others. 
Studies tell us that clean environment leads to a healthy and happy life. In addition, flowers have an immediate impact on happiness and gives satisfaction.
RVES believes that despite this time of pandemic, we should not stop from doing our best to cater
the needs of the learners and teachers.