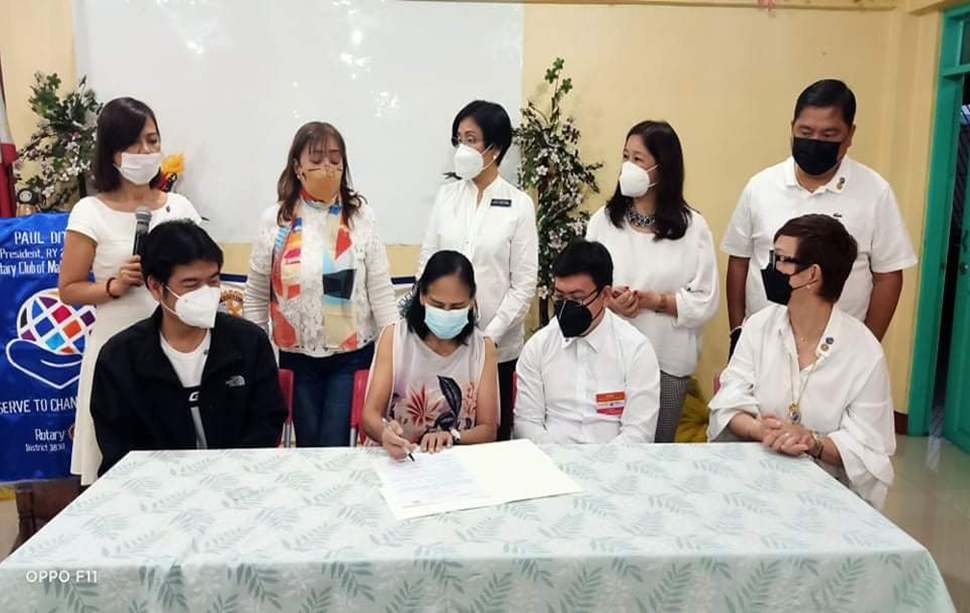 Rivera Village Elementary School signed it's partnership with Rotary Club of Makati Northeast (RCMNe) last June 23, 2021 to continue the programs and projects in the school.The school principal herself, Mrs. Anicia E. Monton signed the MOA with the Club President Paul Ditalo for the continuity of agreement and forging a new undertaking in school dubbed as "Happy Teeth, Winner Smile" project. The said project is a brush and wash station to be installed and constructed bind with this consensus.
The signing of the memorandum of agreement was attended by the governor of District 3830, Dr. Jocelyn L. Tan, Club President Paul Ditalo, the school principal Mrs. Anicia E. Monton and personally witnessed by the charter president of RCMNe, Councilor Allan Panaligan with spouse Jenny Panaligan, Assistant Governor Ana Santos of Cluster G, Immediate Past President Christi Aldave, Past President Dona Ado and the RVES Faculty Club President Joffrey P. Quinsayas.
Rotary Club of Makati Northeast will continue its purpose of extending programs and projects that will help students in elevating the learning performance and improve school facilities by making such brush and wash in school. RCMNe promise to continue doing volunteerism and widen its prime responsibility to connect with schools and come up with programs and projects.
Rivera Village Elementary School will continue connecting to potential stakeholders that will support and provide meaningful projects and programs benefiting the school children. RVES on the delivery of better education will keep on promoting the department's thrust of providing quality, free and accessible education for all.